NEXT EVENT 23rd July.

Claude Grahame-White

* NOTE DATE CHANGE*
This event was originally planned for August but has been brought forward to:
Saturday 23rd July 2016 (12 noon onwards) – Roade Village Hall, NN7 2LS


FREE ADMISSION

Exhibition celebrating the world's first night navigation flight when the famous aviator Claude Grahame-White took off from Roade in the early hours of 28th April 1910 during an air race from London to Manchester (for a £10,000 prize offered by the Daily Mail) .

Claude Grahame-White
was a pioneer
and entrepreneur

in the early days of aviation and motor vehicles.
We will be exhibiting this rare example of a car built by one of his companies.
There will also be an opportunity to view photos, maps and documents relating to the 1911 Census in Roade.


Also,

Exhibitions

Vintage vehicles

Stationary engines

Royal Roade Bake Off

Fun & Games

Craft Stall

Food & drinks
This will be part of a Family Fun Day also celebrating 1st Roade Scout Group's 60th birthday.

Please note, we have now fixed a new date for our visit to Hyde Farm. See What's On for more details.
------------------------------------------------------------------------------------------------------------------------------
Our calendar of events for 2016-17 is now available on the
What's On
page.
------------------------------------------------------------------------------------------------------------------------------
News

Our AGM on 25
th
May saw some changes to our committee line up. Two members, who have both served on the committee since the Society started in 2005, have decided to reduce the amount of time they can devote to RLHS.
Sheila Fitchett has stood down from the committee.
Sheila has played an important part in all our activities, including writing parts of
Roade Through the Camera
, research, preparing exhibitions, recording peoples' memories, taking part in several radio interviews and entertaining us at New Year lunches. She continues to be an active member of RLHS, providing welcome help and support.
Alastair Inglis has stood down as Secretary, but has agreed to remain on the committee. Alastair has been an excellent Secretary and remains a key committee member.
Many thanks are due to both for all their hard work, guidance and enthusiasm.
We are delighted to welcome a new committee member, Chris Hillyard.


We are always seeking volunteers. If you can assist in any way, no matter how small, please let us know.

Benches and Memorials





RLHS is compiling a database of memorials

such as benches etc in the village, and details

of people so remembered. If you know of one,

or have details (especially photos) of these villagers, please contact us.
information@roadehistorysociety.org.uk







Recent Events
Our recent talks have been well attended by both members and non-members and we hope to see more people at our events in the rest of 2016. If you haven't been to one, do come along – you will be very welcome.




Our New Year Lunch in January was held at the Bowls Club with food provided by highly regarded chef Martin Brown. It was a great success, which we hope to repeat next year.






Sheila reading a poem by Pam Ayres at the New Year Lunch

In February we were given a very erudite talk on 'The Recorders of Northampton' by His Honour Judge Rupert Mayo. A packed hall listened to the ups and downs of the various Recorders since 1478, and were fascinated to learn of the development of the role, and the 'dangers' faced by the post-holders if they fell out of favour with the monarch of the day. He also explained the roles of the different courts, and gave an insight on how important our county town had been in days gone by.

We are very grateful to him as he had researched the subject specially for our event.
Our March speaker, Angela Malin, is known to many, as she lives in Hartwell and is a supporter of our Society.

She is Vice-Chair of Northamptonshire Family History Society and gave a very informative, helpful talk on researching family history and the surprising variety of resources available. Many of the sources mentioned are also useful for local history.

Information about the Northamptonshire Family History Society can be found on their website:
In April Dr Cathy Smith gave an excellent talk on 'Lunacy and the Victorian Asylum' including details of the often surprisingly enlightened treatment patients received at Northampton General Lunatic Asylum (now St Andrew's Hospital) which opened in 1838.
The talk drew a large audience, including18 non-members, and the number and variety of questions they asked showed how interested they were.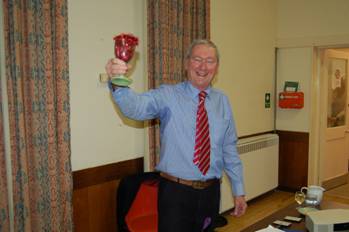 Our May speaker, Roy Smart, gave a very lively and entertaining account of the life of David, 1st Earl Beatty and his central controversial part in the battle of Jutland. This was well-timed as the centenary of the battle was on 31st May and Roy's talk gave us a good background for the many articles and debates about the event.
Beatty had great charm, courage and panache and was constantly promoted over men of senior rank and much wider experience. He became a great celebrity but we know now that he was less than honest about his conduct of the battle, which might have gone better if he had been more experienced.
Future Events

Unless otherwise indicated, all events take place at 7.30 pm at St. Mary's Church Hall, where refreshments are available. Admission charges for talks and visits are £2 for members (annual subscription £5), £3 for adult non-members, 50p for children (up to 16) of non-members. Members' children up to 16 are admitted free.
----------------------------------------------------------------------------------------------------------------------
Projects
- help needed!
"Projects" are an important part of our activities and we welcome help with these.
Please see our
current list of ongoing and future projects
for more information.
---------------------------------------------------------------------------------------------------

Royal Canadian Air Force

Roade Local History Society has installed a small memorial to commemorate six Canadian airmen who lost their lives when their Wellington bomber was struck by lightning over Roade 70 years ago.
ALTHOUGH THIS PROJECT FINISHED IN MARCH 2013, FILMS ARE STILL BEING SOUGHT.
If anyone has film that should be preserved or you would like copying to DVD, please contact our Secretary (see the Contacts page).