NEXT EVENT

Wednesday 12th December - 7.30pm, St Mary's Church Hall, Roade, NN7 2PU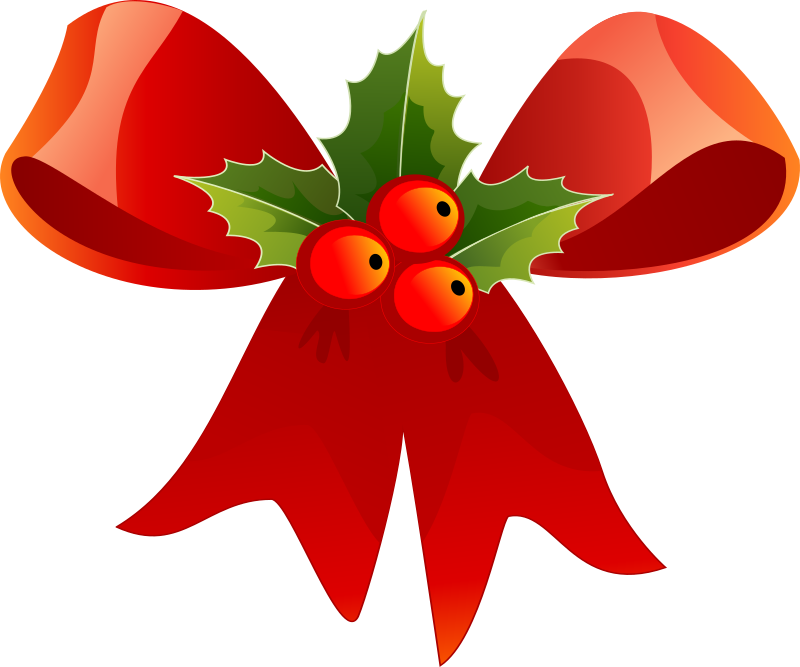 A Christmas Collation

Displays about projects and recent events

A short talk by David Wortley, of 360in360 Immersive Experiences,
who made the videos of our exhibitions

Seasonal refreshments

Jinx songs and singalongs

Carols for all


Entrance: Members £2, Non-members £3
Children under 16: of Members FREE and of Non-members 50p
Telephone enquiries 01604 864498 or 862735


Scroll down for some pictures and information about our recent events.

Our calendar of forthcoming events is available on the What's On page.
--------------------------------------------------------------------------------------------------------------
---------------------------------------------------------------------------------------------------
News

The Transport Trust Red Wheel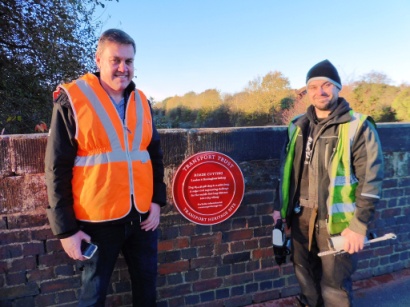 The Transport Trust Red Wheel was mounted on the north side of Hyde Road bridge on Friday 2nd November by village resident Tom Roberts, director of TJR Engineering in Milton Keynes. Mike Lightwing, Network Rail regional Asset Protection Manager and also resident in Roade, was present to confirm the agreed siting.



It commemorates Roade Cutting, one of the last and most protracted of engineering feats that enabled the opening in 1838 of the World's First long distance inter-city railway: The London and Birmingham Railway - still in constant use 180 years later.

The Red Wheel scheme is designed to raise awareness and appreciation of the best of Britain's transport heritage amongst a wider and younger audience by commemorating significant transport places and objects. Ours is the 102nd awarded since the scheme started in 2009. They are the equivalent of the English Heritage Blue Plaque scheme that commemorates significant people and their association with the buildings on which the plaques are mounted.

The Transport Trust promotes the restoration and preservation of Britain's important transport heritage in all its forms on land, air and water. For more information see: www.transporttrust.com/

Roade Local History Society is grateful to Milton Keynes Heritage Association for funding the manufacture and installation of the Red Wheel.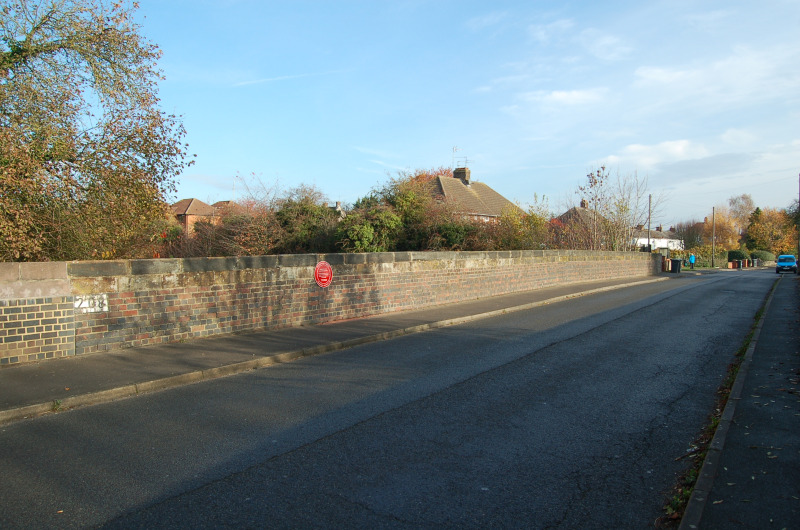 The site of the Red Wheel on the Hyde Road bridge
was determined by Network Rail

Oral History Interviews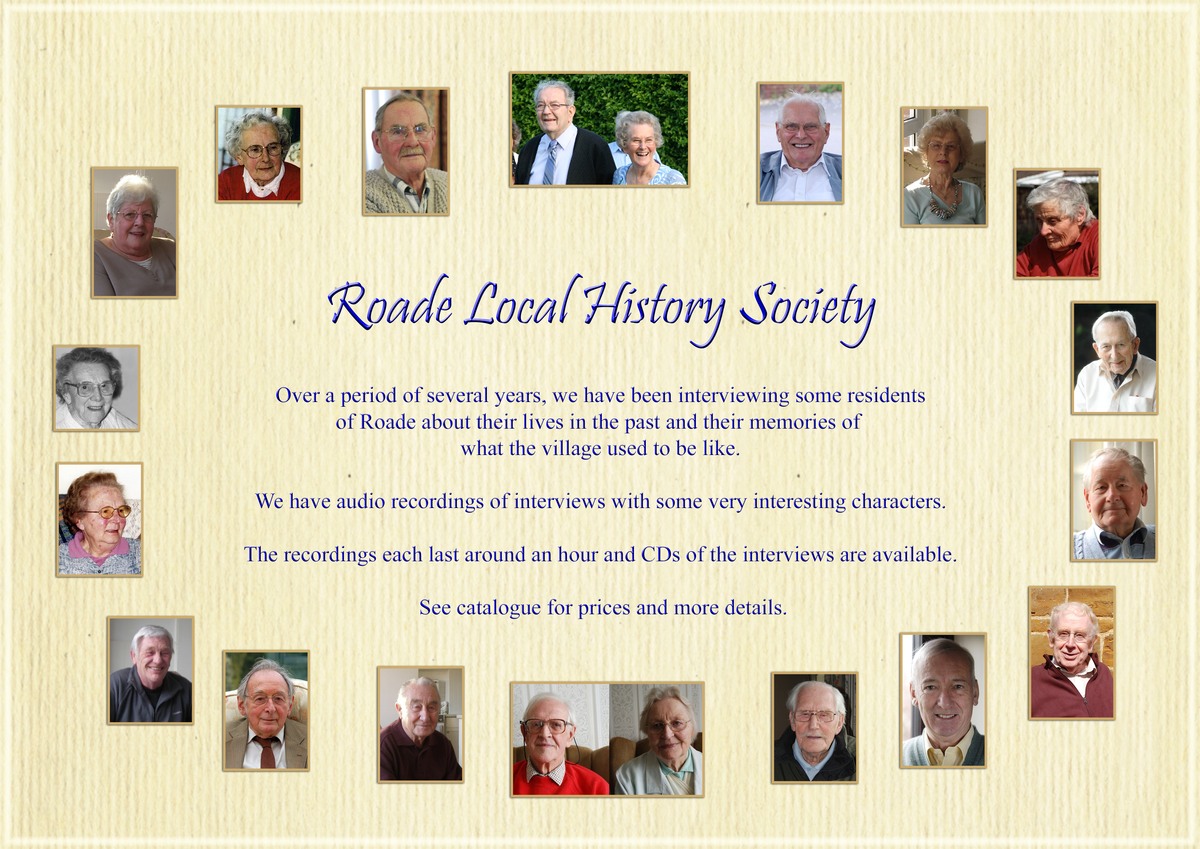 Click the poster above to open a larger version in a new window

Since 2007 we have been interviewing local residents as part of our Oral History project and we have made these available for purchase on CD.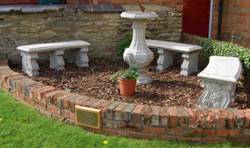 Benches and Memorials



RLHS is compiling a database of memorials such as benches etc in the village, and details of people so remembered. If you know of one, or have details (especially photos) of these villagers, please contact us.



Scroll down to see our most Recent Events
Earlier events can now be viewed on this link:
Earlier events
11th November 2018
Roade Local History Society and The Royal British Legion Roade & District Branch
Roade Roll of Honour Exhibition
at Roade Methodist Church Hall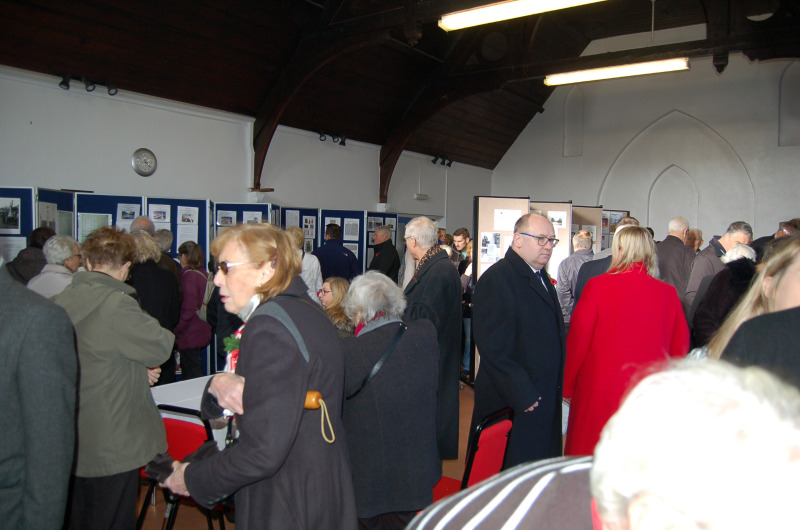 The Exhibition was very successful and provided information about men from Roade who died in the service of their country in the two World Wars, including some who do not appear on the village war memorial, and six Canadian airmen who lost their lives when their Wellington bomber was struck by lightning over Roade in 1944 (a memorial to the airmen was dedicated on 9th November 2014).

The Roade Roll of Honour folders in St Mary's Church and Roade Methodist Church were produced in 2008 by Gordon Hall with the help of members of Roade Local History Society and the Royal British Legion. They have been updated with various amendments and additions resulting from further research and information received in the last ten years. In particular, details have been added about the Canadian airmen and two men whose graves in Roade Cemetery are designated as WWI War Graves and are commemorated by the Commonwealth War Graves Commission.

The Society is grateful to:
The Royal British Legion, Roade & District branch, for taking part,
Roade Methodist Church for hosting the Exhibition and providing delicious refreshments,
Gordon Hall for inspiring and producing the original Roade Roll of Honour,
David Cochrane for providing a wealth of information about men who were born or once lived in Roade but are commemorated elsewhere,
Eleanor Pye for sending us a beautiful folder recording the dedication of the memorial to the six Canadian airmen (Eleanor and her brother and son came from Canada in 2014 to take part in the ceremony),
all those who provided exhibits and helped at the event.

Spherical video and interactive map of the Remembrance Service and parade



The 2018 Remembrance Service and Roade Roll of Honour Exhibition were attended by David Wortley of 360in360 Immersive Experiences, who has kindly posted to Youtube a spherical video he took of the event. In this, it is possible to pan around the video (left and right, up and down) as though you were there at the time and turning your head...........drag the video around on the screen with your mouse or use the arrow controls in the top left of the Youtube videos and have a go!


https://youtu.be/WWFWx08r-ds

David has also created an Interactive Map of the event, which can be viewed on this link:

The poppy hotspot will bring up a text box and/or a picture with more details.

The '360' logo hotspot will tell you more about what David does and connect you to his web site at

http://www.360in360ix.co.uk/specialoccasions.html

which shows you the interactive map "embedded" into his web page.


(links above open in a new window)
24th October 2018
The Women's Land Army in Northamptonshire during the First World War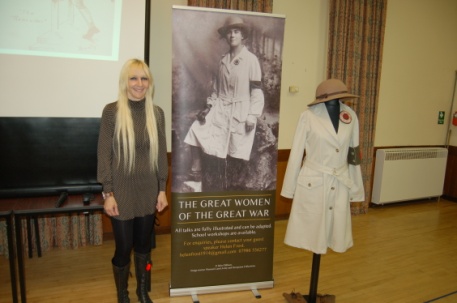 Helen Frost held everyone spellbound with her fascinating talk about the Women's Land Army in World War 1 and their role in combating life threatening food shortages.
26th September 2018
Escape from Roaditz

John Dickie gave an excellent entertaining talk about his experiences as
a teacher at Roade School (now EWS).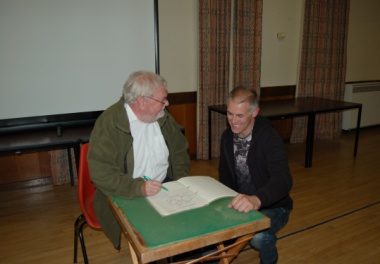 John reviews Andy Johnson's
homework 30 years on
Roade Railway Cutting Exhibition
8th & 9th Sept 2018 (part of Heritage Open days)



Thank you for supporting our Grand Exhibition. We hope you enjoyed it.

Many of the pages on display in the centre of the Main Hall will be incorporated in a forthcoming publication. It may take us some time to get there so please keep visiting our website for news.



The Lucky Souvenir Programme first prize of £50 has not yet been claimed.

The winning number is 256.

Would the winner please contact our Treasurer, Mr C. Denton, on 01604 862300 to arrange collection at a convenient time. The winning programme must be produced when the prize is collected.
If collection is a problem, please discuss with Mr Denton. Delivery may be possible at cost. The winning programme will need to be sent to us for verification and will be returned with the prize.




The weekend Heritage Open Days Grand Exhibition celebrating the 180th Anniversary of Roade Railway Cutting on Saturday 8th and Sunday 9th September at Roade Village Hall, was officially opened by -

The Leader of the House of Commons &
Member of Parliament for South Northamptonshire
The Rt. Hon. Andrea Leadsom MP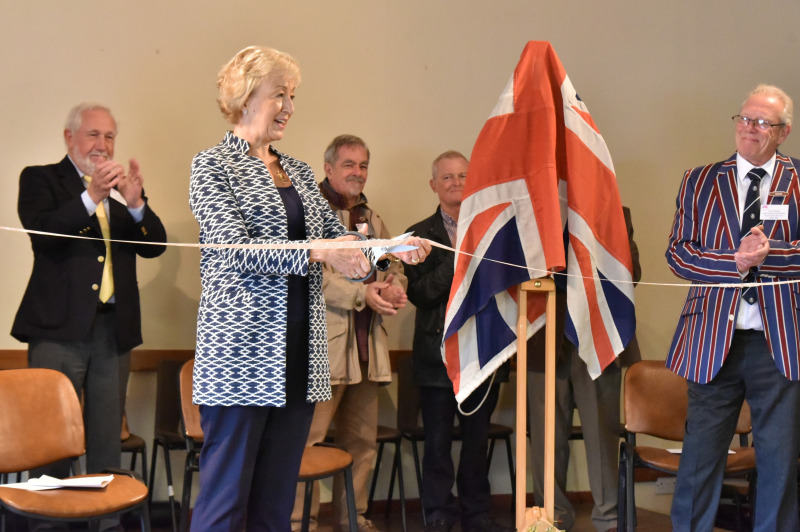 AND WAS FOLLOWED BY

THE TRANSPORT TRUST RED WHEEL UNVEILING
This prestigious award, which recognises the Roade Cutting as a National Transport Heritage Site, was unveiled by Stuart Wilkinson, Chairman of the Transport Trust, and Chris Hillyard RVM, Roade Local History Society.


scroll down for more information


Supported by: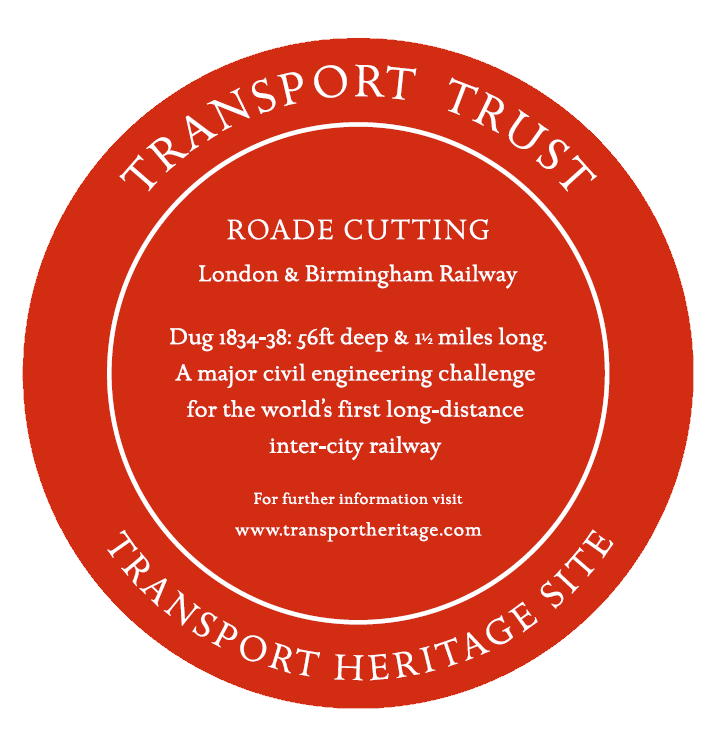 8th & 9th September 2018
ROADE CUTTING 180th ANNIVERSARY
Click here to see the poster advertising this event.

Larger versions of these images open in a new window when clicked

built by Roade Local History Society and Elizabeth Woodville School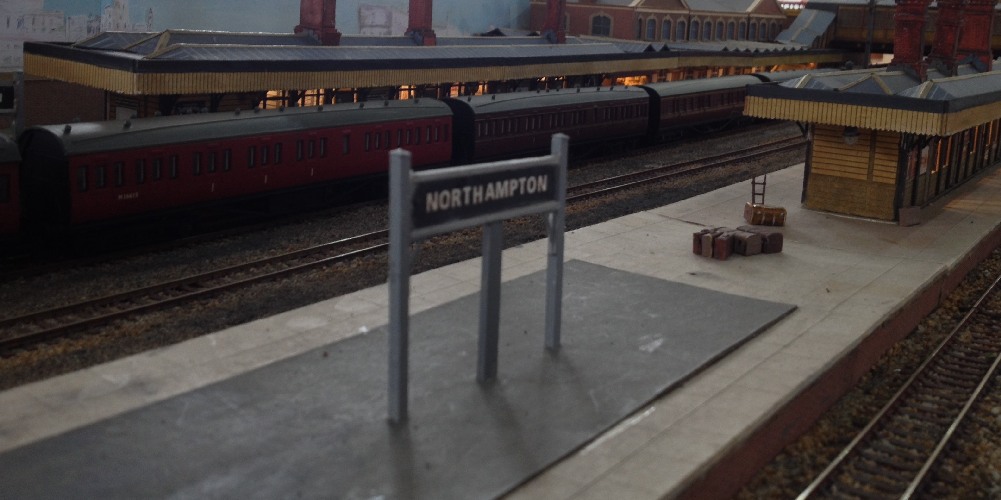 Northampton (Castle) Station built by Northampton & District Model Railway Club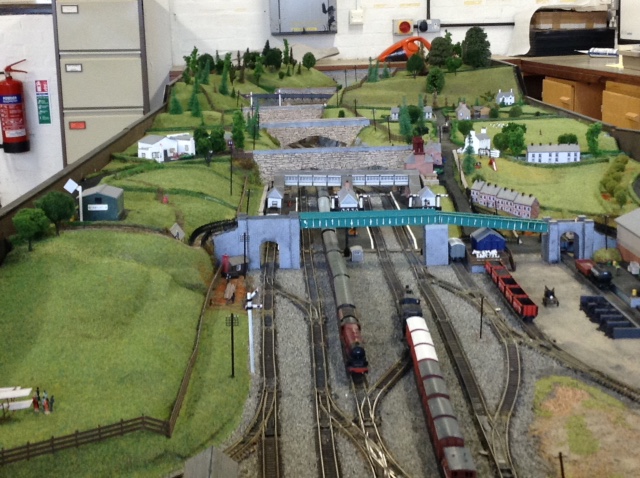 The Roade Cutting model during construction



Roade Local History Society's main event for the year celebrated the 180th Anniversary of the opening of the London to Birmingham Railway in 1838. The event was held over the weekend of 8th/9th September. It was included in the Heritage Open Days calendar and catalogue for 2018.

One of the most challenging and time consuming elements of the line's construction was the excavation of Roade Cutting, which ranks as one of the major engineering achievements of its day. The Society applied to have this feat recognised by the Transport Trust by awarding it Red Wheel status, this prestigious accreditation being a highly sought after recognition of significant transport heritage. The application has been successful and the Red Wheel was unveiled during the event. The Cutting was the last obstacle to the opening of the world's first long-distance intercity railway.
Another First for Roade!

Our event to mark this anniversary included a representative scale model with a detailed history of the trials and tribulations which befell our community during its building and widening, and the social and economic impacts on the area. We are grateful for the tremendous help we received with making the model from the Elizabeth Woodville Schools at both Roade and Deanshanger and society members and a resident Artist.

The event also remembered the significant loss of life which befell the Navvies and pioneering railway company servants, and included previously unseen film and images of the locality. Many other groups and individuals supported this event, including the Northampton Model Railway Society displayed a period model of Northampton Castle Station.


11th July 2018
Visit to the National Leather Collection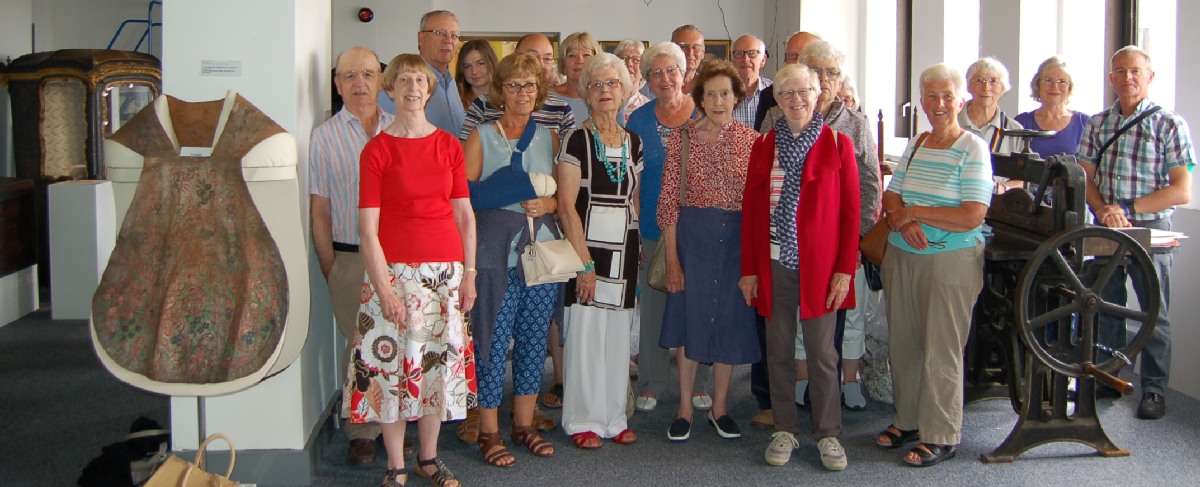 Members and guests enjoyed a fascinating tour of the National Leather Collection in the Grosvenor Centre, Northampton - well worth a visit.

See https://nationalleathercollection.org/ for information and latest opening hours.


23rd May 2018
Canons Ashby: Priory, House and Family



RLHS member Roy Phillips is a guide at Canons Ashby and gave a very accomplished and entertaining account of its history
"from Domesday to the Present Day via Reformation, Revolution and Restoration".

He was delighted to discover that his great-great-great-uncle had worked as butler for the Dryden family of Canons Ashby in the mid-19th century.

25th April 2018
Cutting Remarks - Tales from the depths of Roade Railway Cutting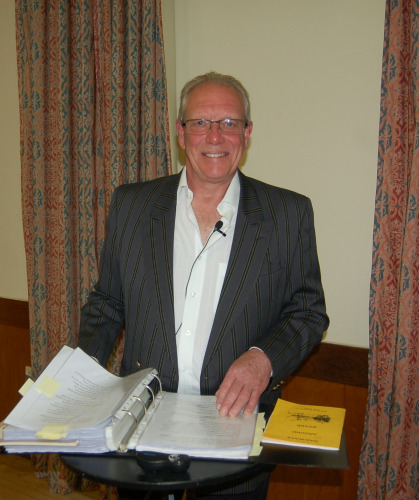 Chris Hillyard, RVM, RLHS committee member and former manager of the Royal Train, gave a very popular talk full of new information and stories of people connected with the Cutting at various stages of its history - a great taster for our event on 8th/9th September.
28th March 2018
Get 'em down - your memoirs that is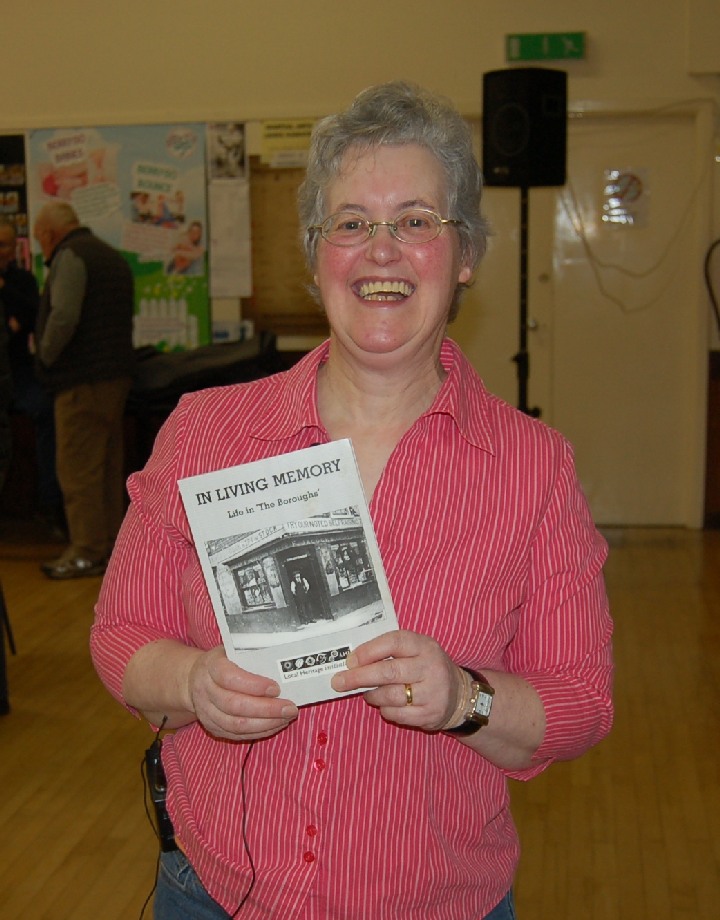 Kate Wills encouraged us to get down our memoirs with some lively audience participation and examples of scenes from the past documented by local people. We hope to run some reminiscence/memoirs sessions at Roade Library once its future is assured.
N.B. our February event was to have been a talk by John Dickie: "Escape from Roaditz".

This was postponed due to bad weather and took place on Wednesday 26th September 2018.

20th January 2018
Another excellent New Year Lunch at Roade Bowls Club
| | |
| --- | --- |
| Nigel Elliott won the unusual objects prize. | Applause for Martin Brown and team. |
Royal Canadian Air Force
Roade Local History Society has installed a small memorial to commemorate six Canadian airmen who lost their lives when their Wellington bomber was struck by lightning over Roade in 1944.
MACE
Full Circle - connecting people with the screen heritage of the Midlands.



Tucked away in boxes in attics and sheds,cupboards and garages are the filmed records of families and communities which are a uniquely important window into our local and community history. The Media Archives for Central England (MACE), the regional moving image archive for the East and West Midlands, is seeking 60 partner organisations to look for this valuable material in their own communities as part of a project to find and uncover the hidden filmed heritage of the midlands. The project will provide new copies of film for depositors and for community use in local schools, community archives and local collections. It will ensure the long term preservation of the materials found so that it can go on being used by future generations. Roade Local History Society has received several films that qualify for free copying for the owners. We will be holding a film show in the New Year, but meantime would welcome talking to anyone who has potentially suitable films that they may no longer be able to view and would like converted to DVD. This covers films of such things as public events, shows, gatherings, scenes, etc in Northamptonshire, but does not include films of holidays or family.



ALTHOUGH THIS PROJECT FINISHED IN MARCH 2013, FILMS ARE STILL BEING SOUGHT If anyone has film that should be preserved or you would like copying to DVD, please contact our Secretary (see the Contacts page
Books


The launch, in September 2009, of our publication 'Roade Through the Camera' was very successful and currently over 900 books have been sold. Copies can be purchased in the village at T & H Newsagents in the High Street or by post – please see our Publications page for further details.
We are building a comprehensive archive of photographs and documents about Roade for research and publication. To date we have produced 'Roade Roll of Honour', 'Roade Through The Camera' and 'Roade Village Scrapbook 1953'.
We also have a library of back issues of various local history magazines and publications available on loan to members.
Events


We have been organising events related to local history since May 2005. These normally cover Roade and its environs and sometimes the wider county. A feature of events has been 'Sons and Daughters of the Village": presentations by residents, past and present, who have created history in their lifetime or have interesting reminiscences about their life in Roade. Events take place every month (except August) and start at 7.30pm in St Mary"s Church Hall, unless otherwise stated. Non-members are very welcome. Entry is £3.00 per person for non-members or £2.00 for members and refreshments are available.


Talks may be subject to change if necessary.


For details of our next event, please see What's On or Roade News or the Notice Boards around Roade.