ROADE CUTTING 180th ANNIVERSARY





ROADE CUTTING 180th ANNIVERSARY CELEBRATION
Exhibition, Guided Walks, Stalls, Refreshments
8th and 9th September - Roade Village Hall
FREE ENTRY

Roade Local History Society is busy planning our main event for the year. This will celebrate the 180th Anniversary of the opening of the London to Birmingham Railway in 1838. The event is to be held over the weekend of 8th/9th September. It is included in the Heritage Open Days calendar and catalogue for 2018.

One of the most challenging and time consuming elements of the line's construction was the excavation of Roade Cutting, which ranks as one of the major engineering achievements of its day. Your Society has applied to have this feat recognised by the Transport Trust by awarding it Red Wheel status, this prestigious accreditation being a highly sought after recognition of significant transport heritage. The Cutting was the last obstacle to the opening of the world's first long-distance intercity railway.
Another First for Roade!

Our event to mark this anniversary will include a representative scale model with a detailed history of the trials and tribulations which befell our community during its building and widening, and the social and economic impacts on the area. We are grateful for the tremendous help we are getting with making the model from the Elizabeth Woodville Schools at both Roade and Deanshanger and society members and a resident

A

rtist.

The event will also remember the significant loss of life which befell the Navvies and pioneering railway company servants, and include previously unseen film and images of the locality. Many other groups and individuals have been invited to support this event, including the Northampton Model Railway Society who are planning to display a period model of Northampton Castle Station. Please put these dates in you planner, it will be a weekend which the whole family will enjoy. Watch out for regular updates on this website and on the 'Roade Remembered' Facebook page.

If you would like to help with this project please contact Chris Hillyard at: chrishillyard@icloud.com.





NEXT EVENT
Wednesday 11th July - 10.30 to 12 noon
Visit to the National Leather Museum, Grosvenor Centre, Northampton.
A follow-up to a very inspiring talk in May 2017 by the Curator, Philip Warner.
FULLY BOOKED
Telephone enquiries 01604 862735 or 864498
Scroll down for some pictures and information about our recent events.

Our calendar of forthcoming events is available on the
What's On
page.
---------------------------------------------------------------------------------------------------
---------------------------------------------------------------------------------------------------


News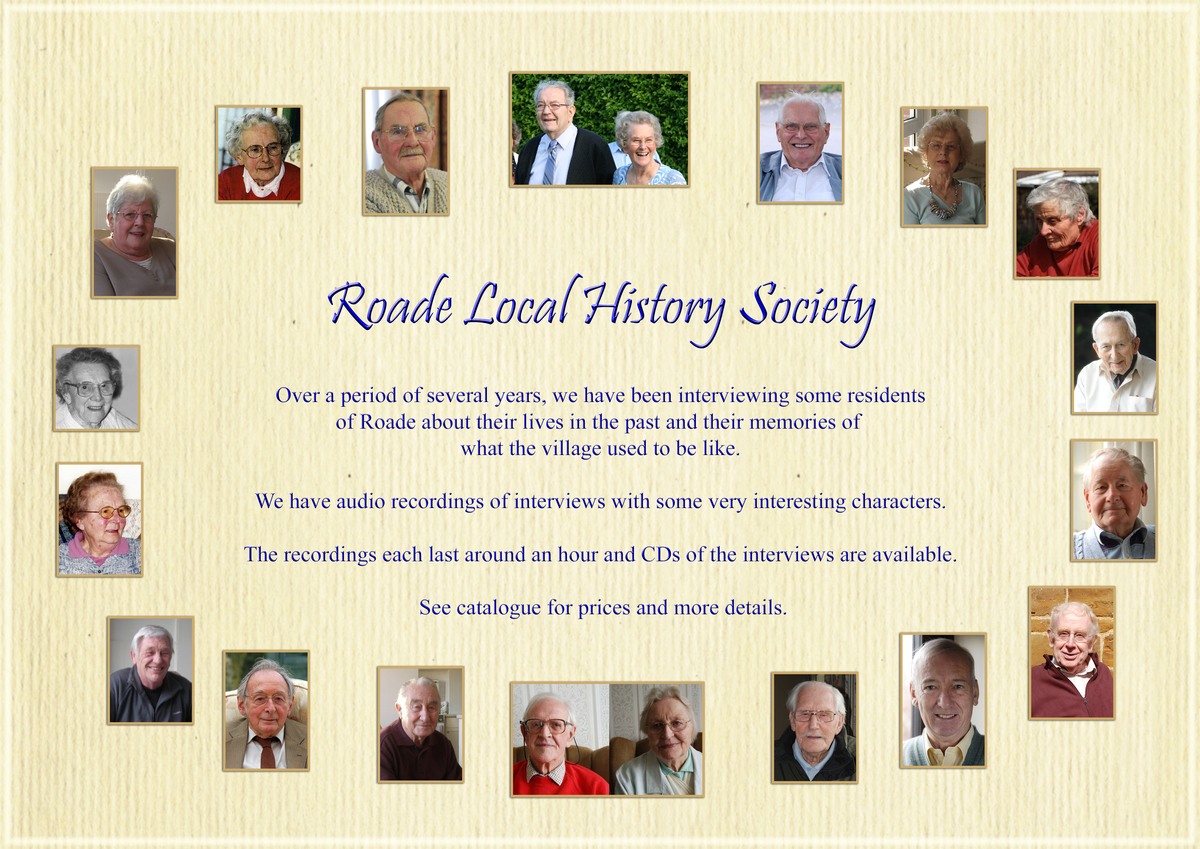 Since 2007 we have been interviewing local residents as part of our Oral History project and we have made these available for purchase on CD.



Benches and Memorials





RLHS is compiling a database of memorials

such as benches etc in the village, and details

of people so remembered. If you know of one, or have details (especially photos) of these villagers, please contact us.
information@roadehistorysociety.org.uk







Scroll down to see our most Recent Events

Earlier events can now be viewed on this link: Earlier events


23rd May 2018
Canons Ashby: Priory, House and Family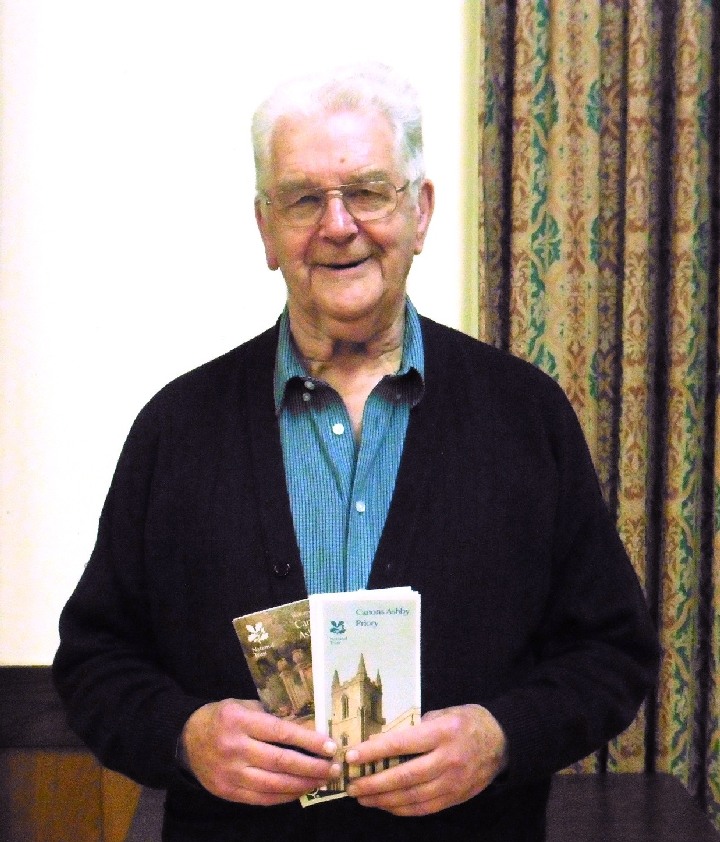 RLHS member Roy Phillips is a guide at Canons Ashby and gave a very accomplished and entertaining account of its history
"from Domesday to the Present Day via Reformation, Revolution and Restoration".
He was delighted to discover that his great-great-great-uncle had worked as butler for the Dryden family of Canons Ashby in the mid-19th century.
25th April 2018
Cutting Remarks - Tales from the depths of Roade Railway Cutting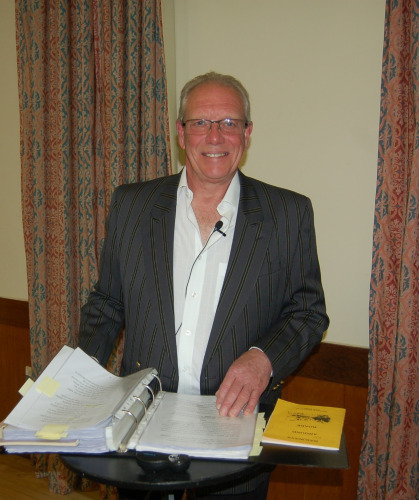 Chris Hillyard, RVM, RLHS committee member and former manager of the Royal Train, gave a very popular talk full of new information and stories of people connected with the Cutting at various stages of its history - a great taster for our event on 8th/9th September.
28th March 2018
Get 'em down - your memoirs that is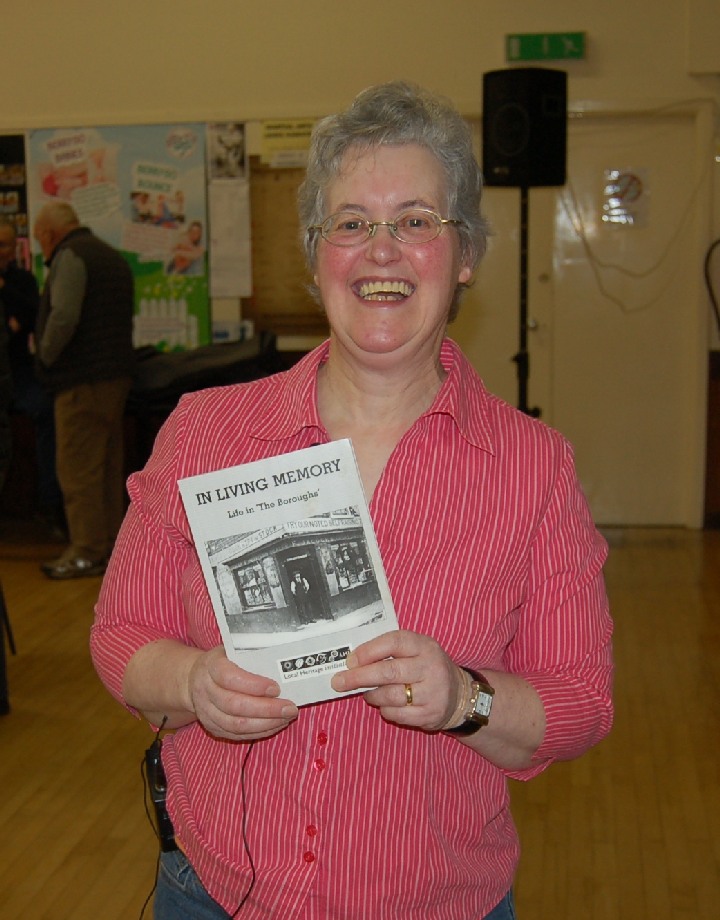 Kate Wills encouraged us to get down our memoirs with some lively audience participation and examples of scenes from the past documented by local people. We hope to run some reminiscence/memoirs sessions at Roade Library once its future is assured.
N.B. our February event was to have been a talk by John Dickie: "Escape from Roaditz".
This was postponed due to bad weather and will now take place on Wednesday 26th September 2018.

20th January 2018
Another excellent New Year Lunch at Roade Bowls Club
| | |
| --- | --- |
| Nigel Elliott won the unusual objects prize. | Applause for Martin Brown and team. |

----------------------------------------------------------------------------------------------------------------------
Royal Canadian Air Force

Roade Local History Society has installed a small memorial to commemorate six Canadian airmen who lost their lives when their Wellington bomber was struck by lightning over Roade in 1944.
ALTHOUGH THIS PROJECT FINISHED IN MARCH 2013, FILMS ARE STILL BEING SOUGHT.
If anyone has film that should be preserved or you would like copying to DVD, please contact our Secretary (see the Contacts page).

The launch, in September 2009, of our publication 'Roade Through the Camera' was very successful and currently over 900 books have been sold. Copies can be purchased in the village at T & H Newsagents in the High Street or by post – please see our Publications page for further details.
We are building a comprehensive archive of photographs and documents about Roade for research and publication. To date we have produced 'Roade Roll of Honour', 'Roade Through The Camera' and 'Roade Village Scrapbook 1953'.
We also have a library of back issues of various local history magazines and publications available on loan to members.