NEXT EVENT
Saturday 20th January 2018, 12.30 pm - Roade Bowls Club
Members' New Year Lunch
A few places still available - booking advised a.s.a.p
Telephone enquiries 01604 864498 or 01604 862735
Many thanks to all who have attended our events this year.
We will resume the monthly events in February 2018 with "Escape From Roaditz" (more details to follow).
We wish a Merry Christmas and Happy NewYear to all.
Scroll down for some pictures and information about our recent events.

Our calendar of forthcoming events is available on the
What's On
page.
---------------------------------------------------------------------------------------------------
---------------------------------------------------------------------------------------------------
News

Here's an important date for your diary:

On the 8th and 9th of September 2018, at Roade Village Hall, there will be an Exhibition and Celebration of the 180th Anniversary of opening the London to Birmingham Railway.

Look out for further details.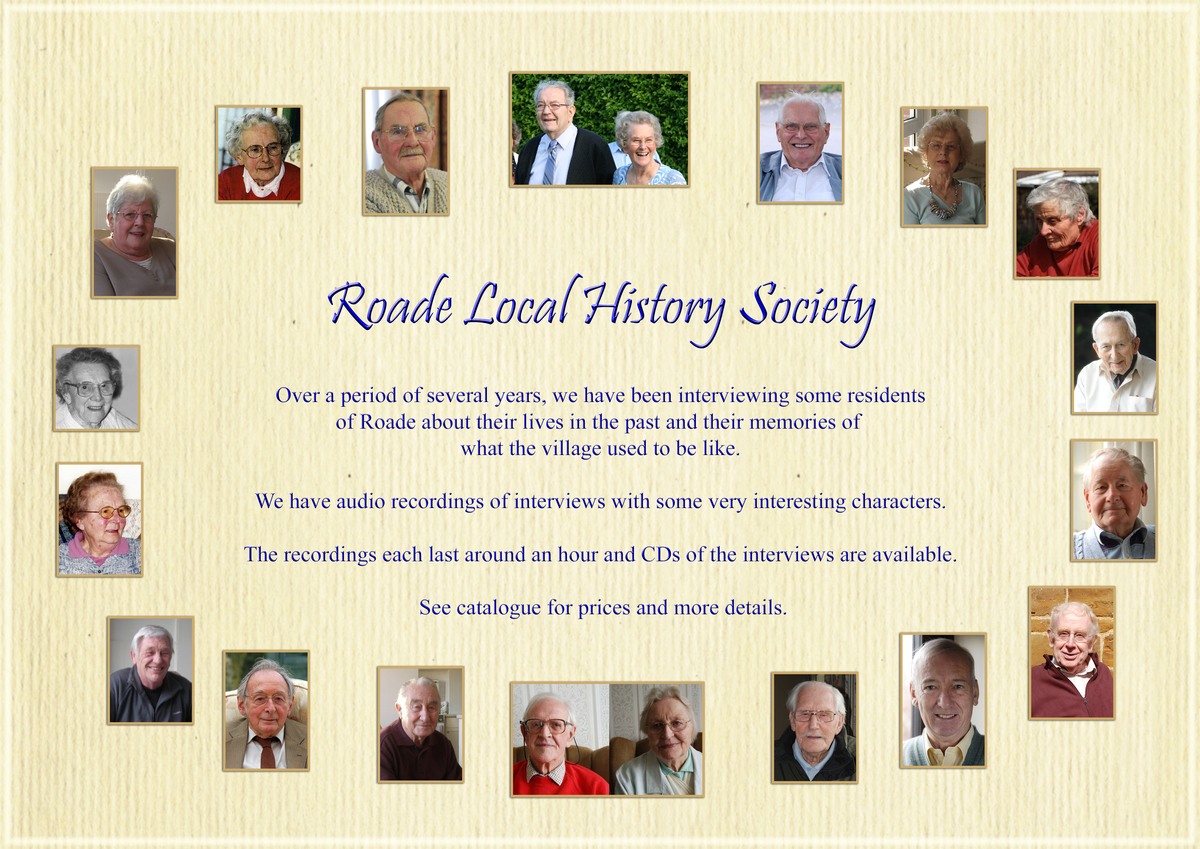 Since 2007 we have been interviewing local residents as part of our Oral History project and we have made these available for purchase on CD.



Benches and Memorials





RLHS is compiling a database of memorials

such as benches etc in the village, and details

of people so remembered. If you know of one, or have details (especially photos) of these villagers, please contact us.
information@roadehistorysociety.org.uk







Scroll down to see our most Recent Events
Earlier events can now be viewed on this link: Earlier events


13th December 2017
Evening of Christmas Cheer
Our Christmas event was a great success. Many thanks to our two entertaining speakers:


| | |
| --- | --- |
| Peter Bennett, who gave an interesting talk about his experiences as a young surveyor helping to install an oil pipeline in Gabon in 1966. | Peter Mawby, who brought us up to date with an excellent account of the rise and demise of Pianoforte Supplies Ltd. |


Ron Johnson's fascinating display based on items from local newspapers will be on show in Roade Library after Christmas.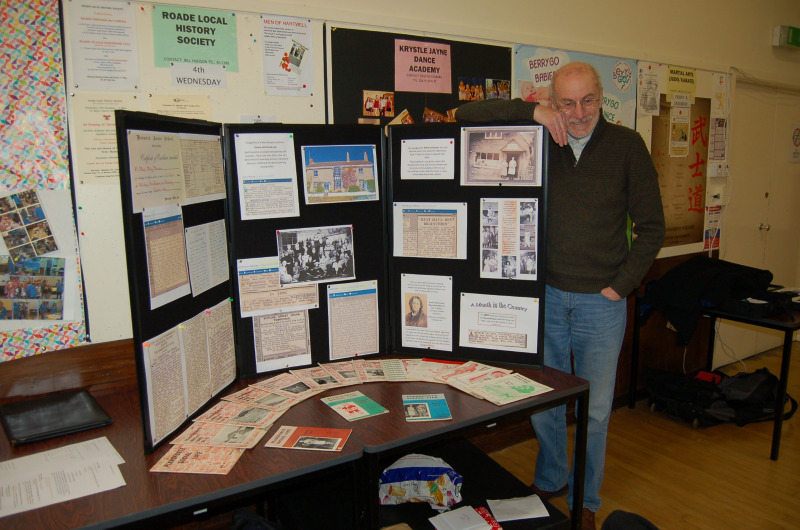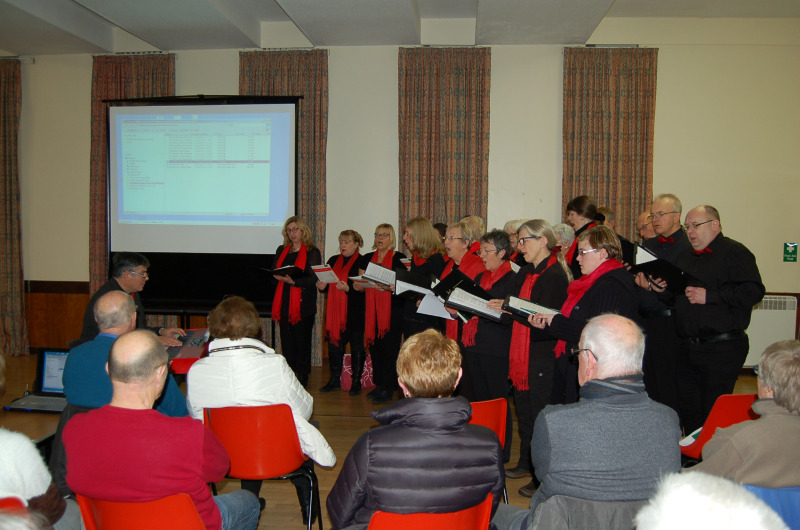 Roade Community Choir joined us for festive refreshments and carol singing. Many thanks to them all for a great finale to our Christmas event. Everyone thoroughly enjoyed both listening and taking part and we hope they will come again next year.

8th December 2017
Memorial to Dr John Gwilt, MBE at Roade Library


The John Gwilt Memorial Display Cabinet is now in place at Roade Library after a very pleasant event when John's son Dr David Gwilt unveiled the Cabinet and he and Alastair Inglis spoke about John's life before and after he came to Roade.

John was awarded the MBE for services to the community in Roade. He was a member and chairman of the Parish Council, governor of both schools, leader of Neighbourhood Watch for many years, a popular member of Roade Local History Society and supportive of the library and both churches in the village.

We are delighted to have the Cabinet, which was largely funded by Dr David Gwilt with contributions from Roade Parish Council and RLHS. It will enable us to provide changing displays relating to our local history in a very appropriate place where they can be seen by all.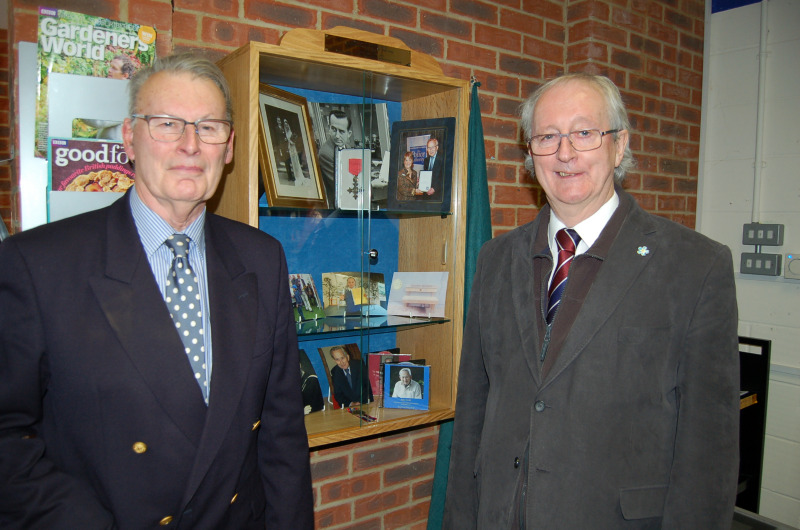 Alastair Inglis and David Gwilt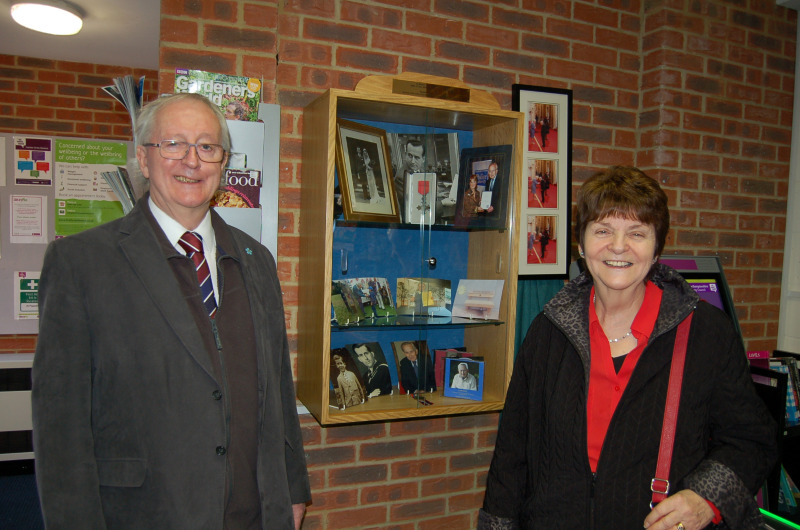 David and Blodwen Gwilt


Many thanks to everyone who helped, especially Marian Barber, Nicky Hall, Myra Inglis and Sylvia Mawby for providing delicious cakes in memory of John, himself a renowned cake maker.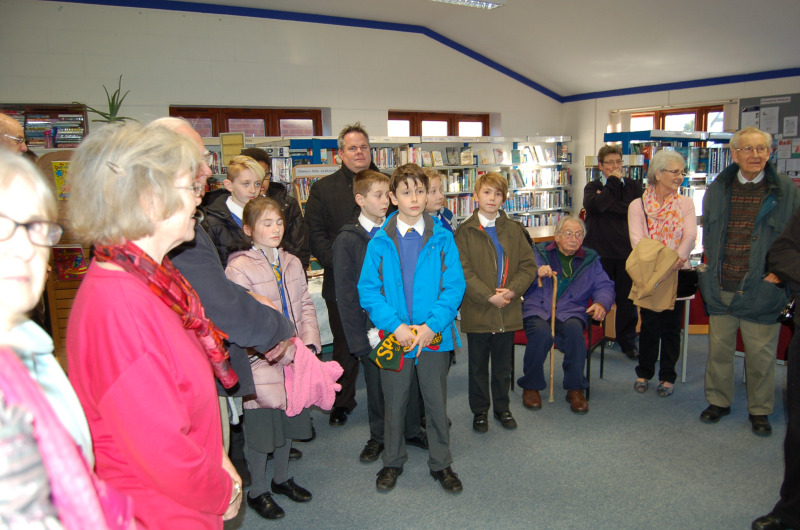 ----------------------------------------------------------------------------------------------------------------------
Future Events

Unless otherwise indicated, all events take place at 7.30 pm at St. Mary's Church Hall, where refreshments are available. Admission charges for talks and visits are £2 for members (annual subscription £5), £3 for adult non-members, 50p for children (up to 16) of non-members. Members' children up to 16 are admitted free.
Royal Canadian Air Force

Roade Local History Society has installed a small memorial to commemorate six Canadian airmen who lost their lives when their Wellington bomber was struck by lightning over Roade 70 years ago.
ALTHOUGH THIS PROJECT FINISHED IN MARCH 2013, FILMS ARE STILL BEING SOUGHT.
If anyone has film that should be preserved or you would like copying to DVD, please contact our Secretary (see the Contacts page).

The launch, in September 2009, of our publication 'Roade Through the Camera' was very successful and currently over 900 books have been sold. Copies can be purchased in the village at T & H Newsagents in the High Street or by post – please see our Publications page for further details.
We are building a comprehensive archive of photographs and documents about Roade for research and publication. To date we have produced 'Roade Roll of Honour', 'Roade Through The Camera' and 'Roade Village Scrapbook 1953'.
We also have a library of back issues of various local history magazines and publications available on loan to members.