The Exhibition was very successful and provided information about men from Roade who died in the service of their country in the two World Wars, including some who do not appear on the village war memorial, and six Canadian airmen who lost their lives when their Wellington bomber was struck by lightning over Roade in 1944 (a memorial to the airmen was dedicated on 9th November 2014).
The Roade Roll of Honour folders in St Mary's Church and Roade Methodist Church were produced in 2008 by Gordon Hall with the help of members of Roade Local History Society and the Royal British Legion. They have been updated with various amendments and additions resulting from further research and information received in the last ten years. In particular, details have been added about the Canadian airmen and two men whose graves in Roade Cemetery are designated as WWI War Graves and are commemorated by the Commonwealth War Graves Commission.
The Society is grateful to:
The Royal British Legion, Roade & District branch, for taking part,
Roade Methodist Church for hosting the Exhibition and providing delicious refreshments,
Gordon Hall for inspiring and producing the original Roade Roll of Honour,
David Cochrane for providing a wealth of information about men who were born or once lived in Roade but are commemorated elsewhere,
Eleanor Pye for sending us a beautiful folder recording the dedication of the memorial to the six Canadian airmen (Eleanor and her brother and son came from Canada in 2014 to take part in the ceremony),
all those who provided exhibits and helped at the event.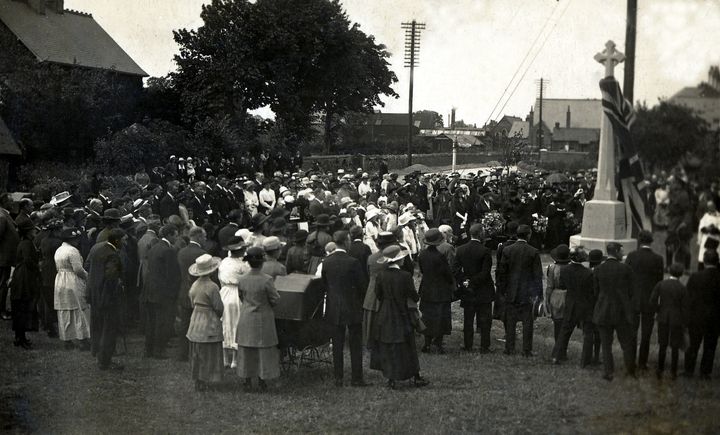 Roade War Memorial unveiling ceremony 1921